Trails in the Tonquin Valley Area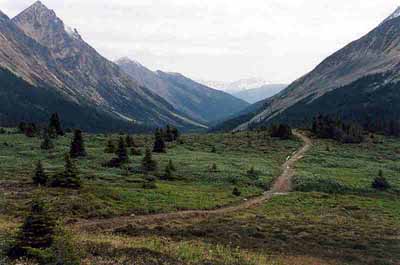 The Portal from Maccarib Pass
July 2004: Looking back toward the trailhead as the Maccarib trail approaches Maccarib Pass, hikers see The Portal flanked by Peveril Peak, 2650 m, and Marmot Mountain, 2608 m, on the left, with the Colin Range in the distance.
Topo Map: Amethyst Lakes 83 D/9, Jasper 83 D/16
Trail: Maccarib Pass
Ref: CRTG p. 196

All Content © David Wasserman. All rights reserved - Commercial use without express written permission of the copyright holder is expressly forbidden.