The Skyline Trail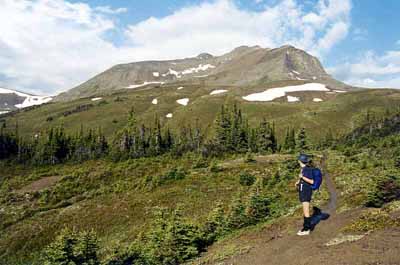 Approaching Little Shovel Pass
July 2003: About 10 km from the Maligne Lake trailhead, the Skyline Trail moves above treeline into the alpine zone, and generally stays there until Signal Mountain, 9 km from the Maligne Canyon trailhead. This peak near Little Shovel Pass is unnamed .
Topo Map: Athabasca Falls 83 C/12, Medicine Lake 83 C/13
Trail: Skyline
Ref: CRTG p. 226

All Content © David Wasserman. All rights reserved - Commercial use without express written permission of the copyright holder is expressly forbidden.