The Skyline Trail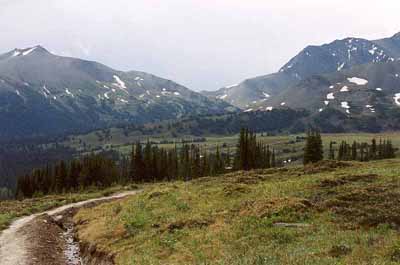 Looking Back to Little Shovel Pass
July 2003: At 2240 m, Little Shovel Pass is the beginning of the high altitude hiking that gives the Skyline its name. The Snowbowl Campground is in the stand of trees in the foreground, surrounded by the meadows of the Snowbowl, a usually damp secti on of the trail.
Topo Map: Athabasca Falls 83 C/12, Medicine Lake 83 C/13
Trail: Skyline
Ref: CRTG p. 226

All Content © David Wasserman. All rights reserved - Commercial use without express written permission of the copyright holder is expressly forbidden.