Trails in the Tonquin Valley Area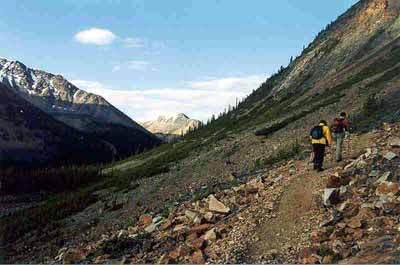 The Portal
July 2004: This area of the upper Portal Creek valley is called The Portal, and lies between Peveril Peak on the northwest and Lectern Peak on the southeast. The peak in the distance is a subpeak of Chak Peak. The trail here is on the lower slopes o f Peveril Peak.
Topo Map: Amethyst Lakes 83 D/9, Jasper 83 D/16
Trail: Maccarib Pass
Ref: CRTG p. 196

All Content © David Wasserman. All rights reserved - Commercial use without express written permission of the copyright holder is expressly forbidden.